A duplex garage is a so-called doubled (duplicated) parking space for cars, which is provided with the help of moving platforms. According to its name, two cars can be parked on top of each other. At first, drivers who are not familiar with this garage model are often reluctant to drive on the platform. However, there is no real reason for this, as such garages are technically sophisticated and generally considered to be very safe.
This type of garage therefore not only offers flawless technology, but also ensures maximum safety. Practically speaking, vehicle damage due to a technical defect is unknown. Thanks to such car parking spaces, both private customers and companies can save not only space but also parking costs.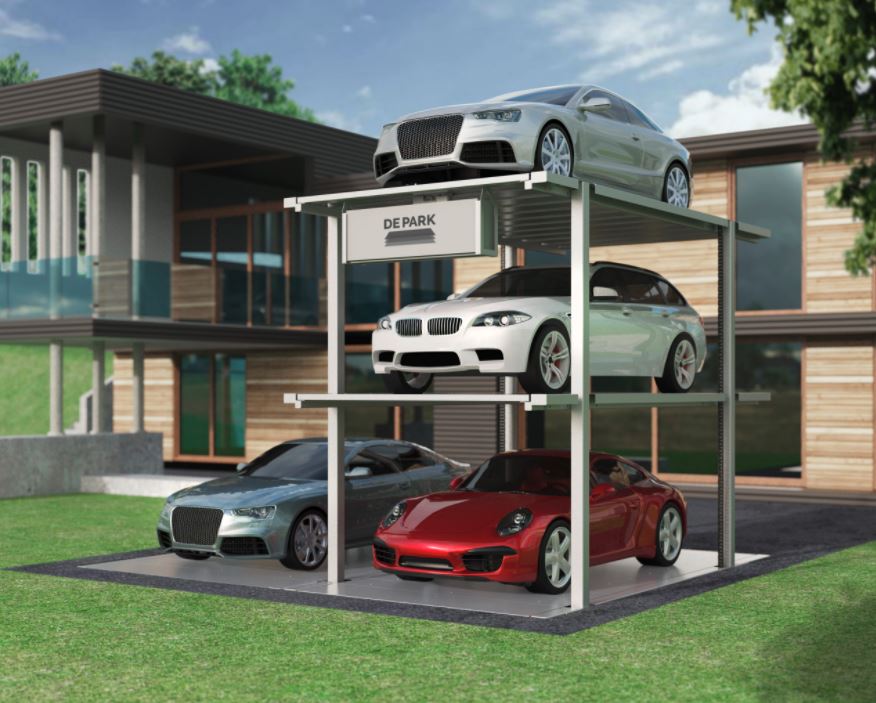 How does the Duplex Garage work?
The simplest variant of the duplex garage is often found under office and residential buildings in underground garages. This double parking space for cars offers two levels that can be raised and lowered by means of a key switch. This circuit is located close to the parking space.
An example: The driver drives up and sees that the upper parking level is already occupied by another vehicle and the lower level is free. So he can simply drive the parking space upwards until the lower parking level ends with the driving surface of the underground car park. At this point, the lifting motor is stopped automatically. The driver can then drive to the lower parking level of the garage.
If in the meantime the owner of the car on the upper level has to park out, he can drive down the garage again and drive out. Now the upper level can be used by the next driver. Such garage spaces are rented out to owners or permanent tenants, who also receive a corresponding key for them. The vehicles are usually parked at an angle. For this purpose, the parking space is usually equipped with additional brake triangles that have to be crossed when driving in and out.
Nevertheless, it is recommended to always engage a gear and pull the handbrake. In the meantime, there are different variants of duplex garages, e.g. for three vehicles, for the combination of short-term and long-term parking, for large-volume cars or as a parking space for the disabled.
Advantages and disadvantages of a duplex garage
The biggest advantage is probably that the available space can be used much more efficiently with this combined car parking space. Even those drivers who initially had reservations about such parking spaces will quickly appreciate the clever solution. In the most favourable cases, the space available in a normal underground car park can accommodate about twice as many cars. This makes it quite possible to create one or even two spaces for each tenant in high-quality residential units and office buildings. Otherwise, tenants would be on their own in the scarce parking supply in city centres.
The only disadvantage with regard to this type of garage is the initial concern described above, as many users are sceptical at first glance and find the running-in process complicated. However, this succeeds quite easily and is practised in a very short time. Of course, drivers must act prudently and, for example, apply the handbrake if the parking spaces lead to angled parking. Depending on how the garage is moved, the slant can first lift the rear and the front of the vehicle. So the vehicle must not be able to roll backwards or forwards.
What does a duplex garage cost?
This type of garage is a very sensible solution wherever there is a shortage of parking spaces. The question of price cannot be answered in a general way, as several factors can have an influence on the price. First of all, it must be determined which model of double garage is actually needed. In addition, size, capacity and equipment also determine the price. In addition, fixed operating costs must be expected for such garages, including costs for electricity consumption, costs for any repairs that may be required and regular maintenance costs.
We at DE-PARK will be happy to advise you on the subject of parking systems. Simply send us an e-mail and we will be happy to call you back.