New forms of mobility are causing ever-increasing traffic, which in turn leads to a lack of parking space. These current issues will continue to occupy us in the future. DE-PARK therefore focuses on future-proof solutions and flexible concepts in the area of parking garages. We are the leading provider of intelligent parking solutions that ensure plenty of freedom of action and are fit for the future. Learn more about parking garages, how they work and the advantages they offer.
What is a parking garage?
The term parking garage refers to a car park that usually has several floors and offers parking spaces for different vehicles such as cars. However, a parking garage also often offers spaces for motorbikes, bicycles or even trucks. Especially in larger cities, parking spaces in inner-city areas are scarce. In addition, parked cars put a strain on street space and prevent it from being better utilised. Therefore, they are mostly built in larger cities.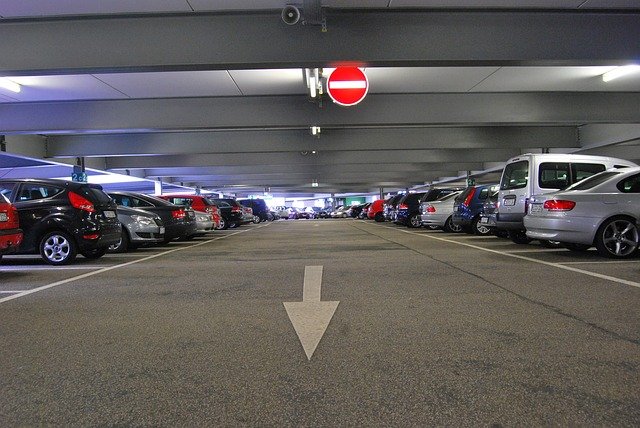 The following terms are to be distinguished:
Elevated garage – is a garage on higher floors and can only be accessed via ramps.
Underground car park – located below ground level.
Parking deck – refers to a floor of the parking garage.
In order to meet the demand for sufficient parking spaces and to be able to build contemporary parking garages, a number of criteria must first be taken into account. At DE-PARK, we therefore make sure that our garages are not only user-friendly and provide enough parking spaces, but also meet other requirements such as short construction times and economic efficiency. In addition, we are happy to accommodate aesthetic and other individual requirements. With our experience in this field, we are your competent partner for every challenge.
How do parking garages work?
Video cameras are installed in most parking garages to provide security. However, a parking fee must often be paid to park the vehicle. More modern garages have an occupancy detection system that informs drivers about the parking spaces that are still available.
Parking garages usually differ according to the accessibility of the parking deck:
Large parking decks usually have ramps, which differ according to system. On the one hand, parking garages use straight ramps, but also helical or spiral ramps. On the other hand, there are also separate ramps that avoid oncoming traffic when driving up and down. Meanwhile, many garages use ramps with the so-called D'Humy system.
Besides ramps, lifts are used especially in older garages. This technology is used less often today because the operating and installation costs are usually higher and the vehicle throughput is limited.
In most parking garages, drivers drive their cars to the parking space themselves and then collect them themselves. However, work is now also being done on fully automatic systems that relieve the driver of the task of driving to the parking space. These technically complex systems have a so-called parking box that parks the vehicle automatically. An alternative to this are employees in garages who drive the vehicles to the parking space and hand them over again.
With design and system
The DE-PARK system is characterised by function and innovation. When building parking garages, we pay precise attention to ensuring that the construction elements are one hundred percent coordinated and remain functional in the future. Thanks to our many years of experience in this field, we have the necessary technical know-how to implement customised solutions according to your needs and specifications.
In addition to proven system elements, we also attach great importance to design, so that our creative architecture is also used for the façade. Our parking garages are distinguished by a high level of user comfort, a maximum number of parking spaces and individual design.
Advantages
Mechanical solutions and their compact design enable the effective use of space. This is of particular benefit to large cities with limited available space.
Video surveillance provides parking garages with a high level of protection.
Good parks are soundproofed and therefore offer protection from noise. This advantage is particularly important in residential areas.
Parking garages also have visual advantages. With a modern design, they even become eye-catchers and can therefore be integrated into gaps between buildings without hesitation. Thanks to the various options for façade cladding, they can be adapted to surrounding buildings.
Parking garages enable convenient parking thanks to modern payment methods.
Your satisfaction is our priority
Your satisfaction is our goal. Through many years of cooperation with our customers, we have gained valuable experience and have come to the realisation that the diverse demands of our customers have made us the ideal contact partner. This has enabled us to learn the necessary know-how and to permanently develop ourselves further. The result is individual, economical and functional solutions in the planning process and in the construction of parking garages.