A duplex parking space is probably one of the most innovative garage variants. Nevertheless, many vehicle owners are not familiar with how it works or with the term itself. Some also have reservations, although these are not exactly justified. After all, the advantages of this garage variant are clearly superior to the apparent disadvantages.
This parking space is a double-level garage in which two vehicles can be parked on top of each other. This innovative system duplicates the existing garage parking space. Such a parking space can increase the available parking space even in the smallest of spaces. In the meantime, there are also different models in this segment that can be adapted to the individual wishes of the customer with selected accessories, such as the modification for e-parking or the bike safe.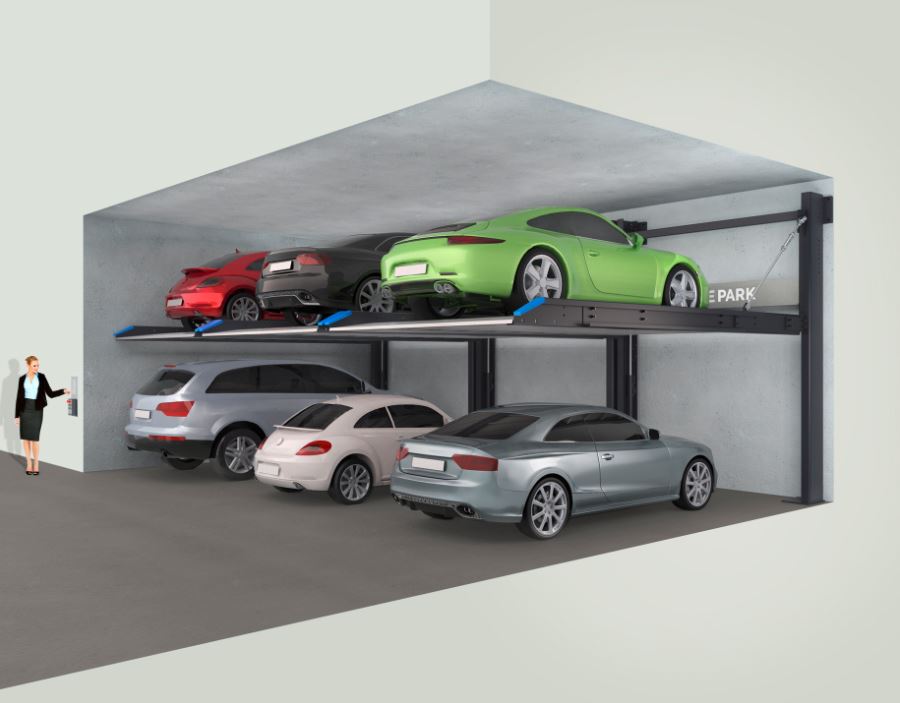 Functionality of a duplex parking space
Those standing in front of such a pitch for the first time look in sceptically at first. Fortunately, this reaction is unfounded, as this parking space technology is extremely safe and sophisticated. Vehicle damage due to a technical defect is practically unknown.
Typically, duplex parking spaces are built in underground garages, especially under residential and office complexes. The parking space system usually offers two levels, with one or two parking spaces per level. Next to the parking space is a key switch that can be operated by the driver. This raises or lowers the parking space level, depending on which level the driver wants to enter or exit from.
So if a driver drives his car up to the parking space and finds that one level is free and the other is occupied, he can simply lower or raise the free level by operating the lifting motor and finally park. Of course, the same happens when parking out. The parking spaces are equipped with brake triangles due to the mostly sloping parking surface and the lifting and lowering. These must be crossed when driving in and out. In addition, it is advisable to engage a gear and apply the handbrake.
Meanwhile, there is a duplex parking space for:
Independent parking (pit required): each platform can be driven on independently and conveniently
Dependent parking (no pit required): Before a platform is lowered, the lower parking space must always be empty (stacking parker)
With single stage: One parking space per floor
With double stage: two pitches next to each other per floor
With two or three levels: for parking up to three vehicles on top of each other
What are the advantages and disadvantages of the duplex parking space?
Space efficiency is probably the most important advantage with this type of parking facility. This means that the supply of parking spaces can be used more efficiently, which has proven to be particularly desirable in large cities. Here, the parking situation is tense anyway and there are enough annoyed drivers who are often late for work because of the stressful search for a parking space.
In the best case, this parking space can accommodate twice as many vehicles as before, which would be an advantage for all parties involved in highly frequented commercial areas or densely populated residential areas. In addition, vehicles in secured parking spaces are much better protected against vandalism and theft, as the level can only be lowered or raised with a key. This means that the vehicle may not be accessible or even visible. In addition, a duplex parking space is ideal for winter storage of seasonal vehicles, such as motorbikes or classic cars.
A disadvantage could be the initial concern about the complicated entry, but this concern is usually eliminated after the third entry. While such parking spaces are safe, the driver himself must remember to always engage a gear and apply the handbrake. This will prevent the vehicle from rolling when moving the garage levels and possibly causing damage.
Do you have questions or would you like free advice? We at DE-Park are there for you when it comes to parking systems. Simply send us an e-mail and we will be happy to call you back.