Safely parked, even in the tightest spaces
Double parkers have long since ceased to be a rarity and have become the solution when space is at a premium. The double parking garage is comparatively easy to integrate and can even be retrofitted.
Alternatively, double parkers are also known as stacking garages or duplex garages. These innovative solutions allow you to park two vehicles on top of each other, making optimal use of the available space.
What are double parkers, how do they work and what are the actual costs? We'll tell you in a little more detail in the following sections – including functionality and safety.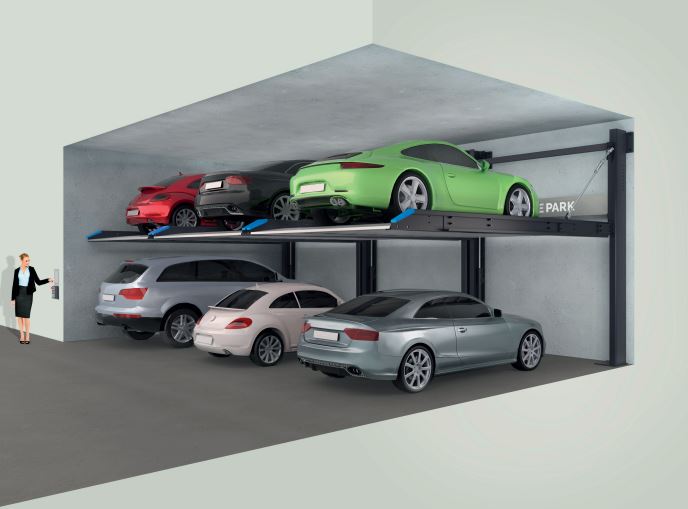 What are double parkers and how do they work?
A double parker is a special type of garage that allows you to park two cars on top of each other.
This type of garage offers the advantage that you can park the two cars in the space of one. Especially in larger cities or on properties with little space, it is worth investing in a double parker.
But how do double parkers actually work? Well, the functional principle is very basically based on a steerable platform – similar to a lifting platform that we know from car repair shops.
The vehicle is parked on the upper level, while the second car is parked below. With the help of a control unit, you can operate the double parker and decide which vehicle you want to use at any given time.
The question of what a double parker means has already been answered – as has the functional principle.
Within the variants, a distinction is made between analogue, digital and fully automated solutions (robotized).
Advantages and disadvantages
Like almost all types of garages and parking systems, double parkers also have advantages and disadvantages. If you decide on a double parking lift, you have to plan with comparatively high purchase costs.
However, the advantages of the parking solution outweigh the disadvantages, because you create many parking spaces from little space and thus benefit from an enormously high efficiency.
As for the other advantages, you can solve the parking situation flexibly. The modern double-parking garages from De-PARK are adjustable in height and width, which means you can also accommodate larger vehicles without hesitation.
Apart from the presented conveniences, a double parking lift offers a higher level of protection – especially in comparison with classic systems.
Last but not least, the integration of such parking systems increases the value of the property. It is therefore worth considering the purchase of such a system for many reasons.
What does a double parking lift cost?
The costs of a double parking lift vary and are difficult to quantify as a general rule. One reason for this is the fact that double parkers are not that common.
Furthermore, they are individual solutions and you have to weigh up which type you prefer. Analogue systems, for example, are cheaper than digital or automated double parkers.
Feel free to contact us or send us an enquiry. We will advise you comprehensively and make you an offer with the exact costs based on your needs.