Are you dissatisfied with your current parking situation and looking for suitable solutions? Then DE-PARK is the right address for you, because we face all challenges and offer customized implementations for every need.
What is a car elevator and what are its applications?
A car elevator allows parking on a parking deck or in an underground garage, connecting street and parking level – without any ramps. DE-PARK provides you with individual and space-saving solutions that can be optimally combined with our other systems and concepts. Our car elevators can be used almost everywhere, are comfortable, space-saving and of high quality.
The term car elevator refers to car lift or parking lift , which are excellent for the realization of parking spaces for cars in urban areas. More precisely, it is a lifting platform for vehicles (and on request, people) with a maximum height of 3 meters.
Car lifts are used almost everywhere, such as in:
Private houses,
apartment houses,
villas,
residential complexes,
hospitals,
retirement homes,
hotels,
boarding houses,
car dealerships,
classic car storage facilities,
workshops,
automobile businesses,
as well as other facilities for commercial use.
Our team accompanies you on your way from the first conversation to planning and installation. In doing so, we address your needs and the respective structural conditions.
Different variants of car elevators
Firstly, indoor facilities, outdoor facilities and canopy facilities are distinguished:
An indoor facility is defined as elevators within a building.
Outside facilities are located at a building, while the shaft is secured by a hydraulically driven lift gate.
In the canopy system there is a second level or the canopy, which can be used as a system closure/shaft or also as a carport replacement when extended. Such plants are suitable for both outdoor and indoor use.
In addition, DE-PARK also provides you with variants with or without a roof. Parking systems for cars with a roof are covered with different materials according to your wishes and can thus also be adapted to the surroundings in terms of color.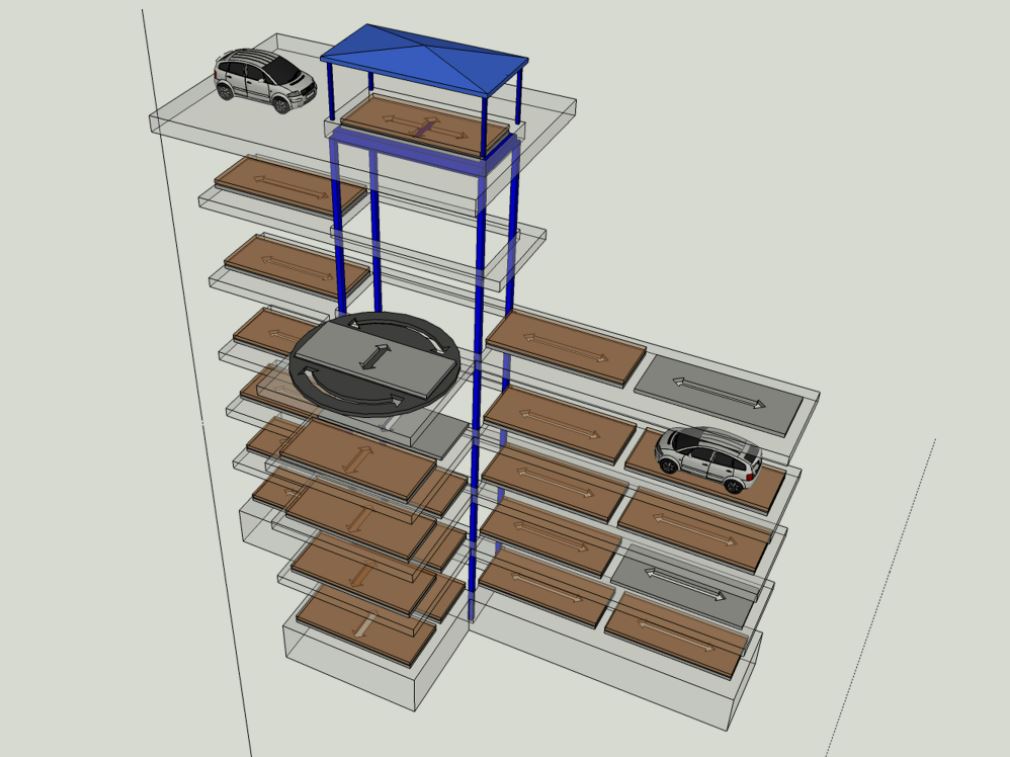 What are the advantages?
Car elevators from DE-PARK convince with numerous advantages:
For us, functionality and elegance go hand in hand.
Our car elevator is suitable for both indoor and outdoor use.
We attach great importance to different designs that can be customized to your needs.
Our car lifts are durable and stable, so that your vehicle can safely reach the desired floor.
A higher comfort due to the automatic ride in case of system with two stops.
Ramps can be dispensed with, thus saving installation space.
Our car elevators are customized according to local conditions.
For the exterior, there is a choice between a partially galvanized and a fully galvanized version.
The versions with passenger ride are absolutely safe due to the equipment with a radio remote control.
DE-PARK works entirely according to your wishes.
Our team consists of specialists who can offer you innovative designs, functionality and color schemes, as well as fulfill other special requests. In addition, at DE-PARK you enjoy maximum comfort and absolute safety. We focus entirely on your needs in order to offer you the right solution for your parking situation.