Space-saving, versatile and high-quality
Have you been looking for a car lift to alleviate the parking situation for some time now? Have you already explored the market but never found the right solution for your needs until now?
DE-PARK ends your search and is your company if you want to choose from a wide range of car lift variants.
Our car lifts convince with high quality, are efficient and versatile. In addition, you receive a modularly developed system that meets innovative requirements.
No matter which customer wishes you would like to implement – we take care of a customised realisation with experienced engineers.
In the following, we will tell you in more detail what you need to know about our car lift systems. To this end, we will go into what such a lift is all about, what solutions are available or what the advantages are. Last but not least, we explain to you what the budget is and what the costs depend on.
What is a car lift?
Anyone who has not yet dealt with a car lift is probably not really familiar with it. Such a lift is an analogue, digital or automated conveyor technology that takes over the parking of the car.
Within the types, you have the option of deciding whether you want to enable only horizontal or also vertical parking.
Which car lift variants are available?
At DE-PARK you can choose from a wide range of car lift variants. It is important to differentiate depending on the budget and the dimensions, because not all solutions are suitable for every need.
If the budget is limited or you have buildings with little space, the analogue car lifts are mainly suitable. These require only a few materials, but at the same time enable intelligent control.
Otherwise, you can also opt for digital solutions. This type of car lift is characterised by semi-automatic control and is a symbiosis of intuitive control unit and modern techniques.
If you opt for digital car lifts, you get convenient solutions with maximum benefits. In addition, guests and tenants benefit from a much more pleasant parking experience.
Last but not least, you can also opt for a robotic car lift with us. This is the most modern way of parking, where users benefit from a fully automated process.
This type of car lift features the highest level of convenience, as users only need to drop off the car in the designated drop-off area. The lift takes care of the rest, allowing users to save time and take care of other things.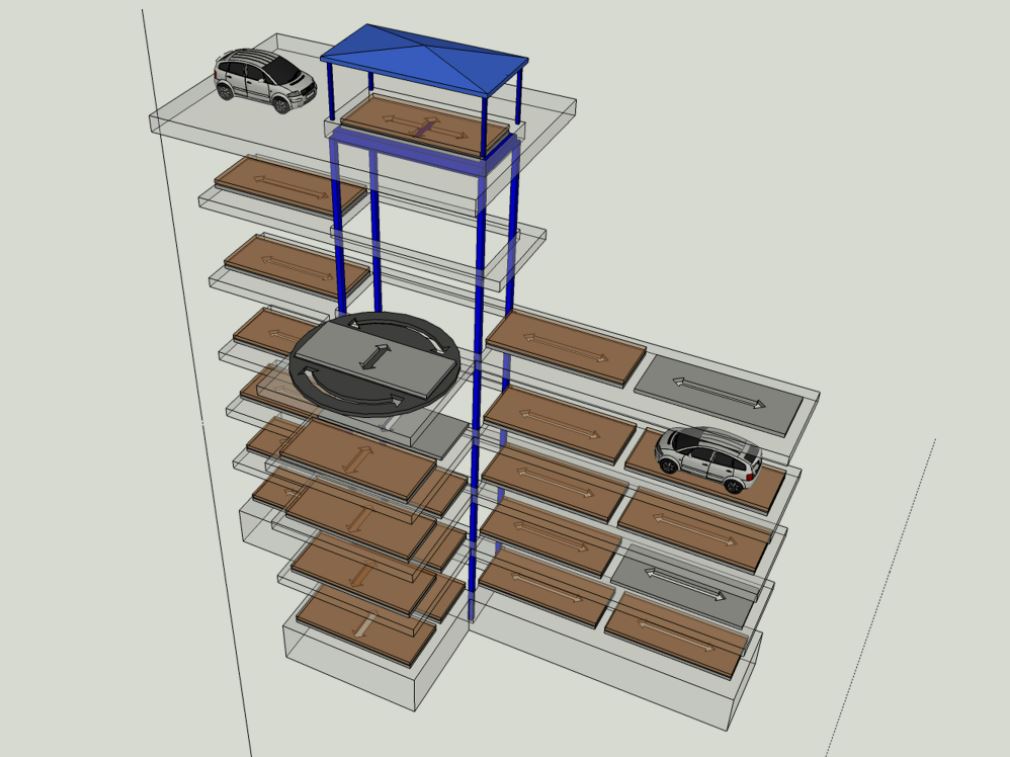 What are common car lift dimensions?
The car lift dimensions essentially depend on the location of the house or the size. In addition, you need to weigh up whether you want a pit or not.
Other essential factors to determine the dimensions are:
Headroom
Through-loader
Shaft width
Shaft depth
Payload
As you have rightly realised, the question of dimensions cannot be determined in a general way – the size of the house, the parking area or the conveying height vary and are different from building to building.
For this reason, we recommend that you contact us, where we will be happy to advise you and act as an innovative contact partner.
This is the budget you need
The costs cannot be answered in a general way, after all, they depend on your building and the chosen variant. In general, a car lift offers the advantage that the modern DE-PARK systems can be easily integrated into the buildings.
If you have commercial real estate, costs can be reduced while turnover increases and, in addition, customers are less stressed – after all, there is no need to search to find a parking space or park the car.
You are welcome to contact us to describe your situation and analyse your needs. We will then advise you comprehensively, show you the perfect solution for your needs and prepare an offer with the exact costs.